Coalition for a Safer Highway 63 and 881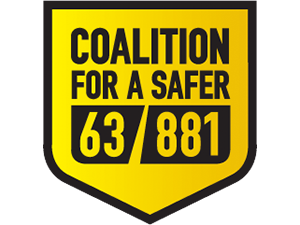 CEDA is a proud gold member of the Coalition for a Safer Highway 63 and 881. This month, the Coalition is releasing a new campaign developed by CEDA's Director of Transportation Safety called, "The Pledge."
Most people are familiar with these two highways (Highway 63 and 881) and the hazards faced when traveling on them. CEDA has many vehicles travelling these roads daily and have unfortunately lost some of the CEDA family due to collisions on these highways. It is a harsh reality and as a result the campaign is targeting the hearts and minds of highway users in an effort to positively impact driving behavior.
In the summer of 2012, one of CEDA's Division Managers was involved in a fatal traffic collision while travelling to work in the early morning. While Matt Crozier was at the funeral, he noted that it was amazing to see such a large number of people in attendance. As he was listening to their stories and memories, Matt realized something - each and every one of us has someone in our lives who would miss us if we weren't here tomorrow. In an effort to take this tragedy and turn it into a positive, Matt came up with the idea of The Pledge. Matt took this idea to the Coalition and further presented it at a Board of Directors meeting. Matt stated, "As the room went silent, I knew I was heading down the right track."
The Pledge is a commitment that drivers will make to someone they care about; a family member, spouse or a friend. When drivers take The Pledge, they are making a commitment to drive in a safe manner and follow basic Journey Management practices. Such practices include checking road conditions, ensuring your vehicle is well maintained, only travelling when necessary and letting someone know when you have arrived safely.