CEDA's Aboriginal Operator Training Program Sees First Completion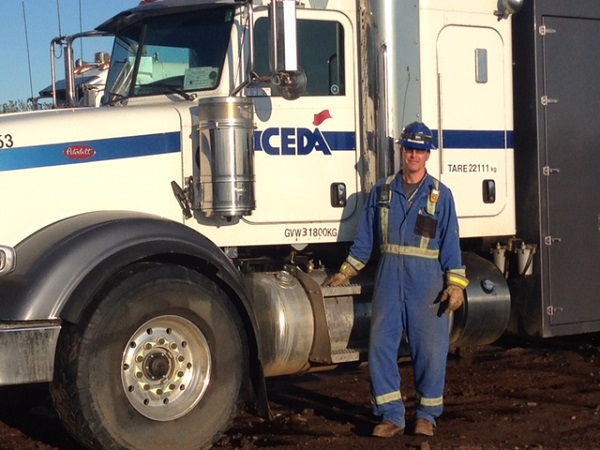 In early 2015, CEDA began working in coordination with local Aboriginal communities to recruit individuals interested in earning their Class 1 or Class 3 driver's licenses.
Through CEDA's Aboriginal Operator Training Program, CEDA provides opportunities to Aboriginal candidates who express an interest in advancing their careers by moving into an operator role at CEDA. Once a candidate is selected, CEDA provides support for the candidate to work with their local Aboriginal Skills and Employment Training Strategy (ASETS) holder to fund their license.
After receiving their license, the candidate is given the opportunity to join CEDA as a labourer for a three-month on-the-job training period. During the training, the candidate is paired with a senior operator to gain experience on CEDA's equipment and to learn the roles and responsibilities of an operator at CEDA. Upon successful completion of the training period and a driver's assessment, the candidate is moved into an operator role.
"CEDA is an equal opportunity employer and we want to see our Aboriginal employees have abundant opportunities throughout the entire organization. Over the last few years, we noticed that candidates struggled to obtain licenses and experience at the Class 1 and 3 levels. To address this barrier, we designed a program to help candidates gain the training needed to become an operator," said Bailey Quaite Supervisor of CEDA's Community Relations.
With over 30 applicants, CEDA has accepted seven individuals into the program with a goal of accepting up to twelve participants in 2015.
"Through this program we have been able to identify promising candidates to join our CEDA family. Recruitment has been able to partner with local Aboriginal communities and develop relationships to promote this program. The opportunity is great for CEDA, the community and our customers," said Renee Rust, Team Lead for Recruitment and Aboriginal Operator Training Program liaison at CEDA.
On June 30th, the program saw its first successful candidate complete the on-the-job training and pass the driver's assessment required to transition into an operator role with CEDA's CNRL Horizon Fort McMurray team.
By pairing recruits with senior operators, candidates are able to learn the responsibilities of an operator, study the basics of operational safety and gain invaluable hands-on driving experience.
The success of this program is a great achievement as CEDA continues to build relationships with local Aboriginal communities where we are engaged in projects.
For additional information on CEDA's Aboriginal Operator Training Program, please email Diversity@cedagroup.com.