CEDACares Raises $28,200 for the Canadian Mental Health Association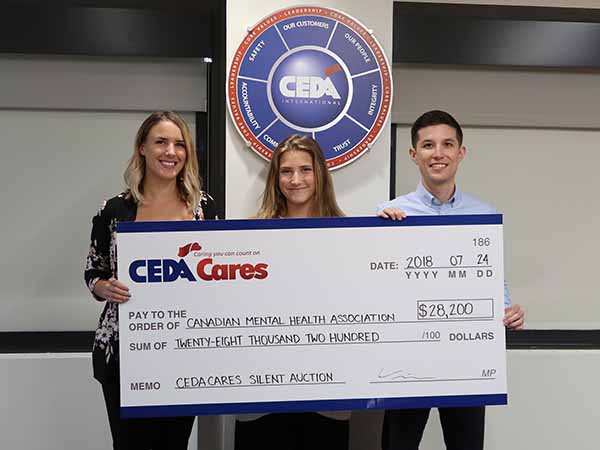 CEDA hosted its 6th Annual CEDACares Silent Auction in support of the Canadian Mental Health Association (CMHA). From May 7-14, CEDA employees bid on 260 items to raise $28,200! The funds raised through this initiative went to a worthy and important cause, supporting programs for Canadian mental health.
"At the Canadian Mental Health Association, we are so grateful for the generous support of our community which allows us to be there for those impacted by mental health or substance use challenges; either their own, or in a loved one," said Joy Pavelich, CMHA's Leader of Communications & Community Engagement. "Events like the CEDACares auction, raising funds for our programs, ensures we can deliver this support free of charge. We are so very grateful for all you've done during Mental Health Week to bring awareness to the issue and the fundraising activities which ensure when someone reaches out for help we can provide it. Thank you for all you do!"
This year's auction aligned with the 67th CMHA Mental Health Week, which not only provided CEDA employees with the opportunity to support an extremely important cause, but also opened up the conversation about mental health. Mental Health Week has become synonymous with CMHA's popular "Get Loud for Mental Health" campaign. Through our event, we were able to increase awareness, support mental health programs and help reduce the stigma around mental illnesses.
"Thank you to everyone who participated in this year's silent auction and for doing your part to help our communities," said Trish Kloberdanz, CEDA's Corporate Communications Manager and auction coordinator. "The overwhelming support and generosity of our local businesses, employees, family and friends is heartwarming and speaks to the great success of this fundraising initiative."
Although the auction and campaign have concluded, the work to #GETLOUD is not finished. Remember to do your part to speak out against discrimination and stigma directed at people with mental illnesses. In taking action and using your voice to raise awareness, you contribute to building support for those affected by mental illness.
CEDA would like thank all of its sponsors, especially the following for their substantial contributions: Air Canada; BDO Canada LLP; Bell; Bow River Hookers Fly Fishing Adventures; Building Trades of Alberta; Danny's Auto Repair; Earls Willow Park; Mobile Glass Solutions; GPMC/NMC; Nextraction Media; Northern Backup Inc.; OMERS; Renegade Guide Service; RICOH; Sturge Family Corp.; Thickwood Mobil 1; WestJet and YMM Cosmetic & Laser Clinic.