CEDA Displays Dedication to Employee Safety in Sarnia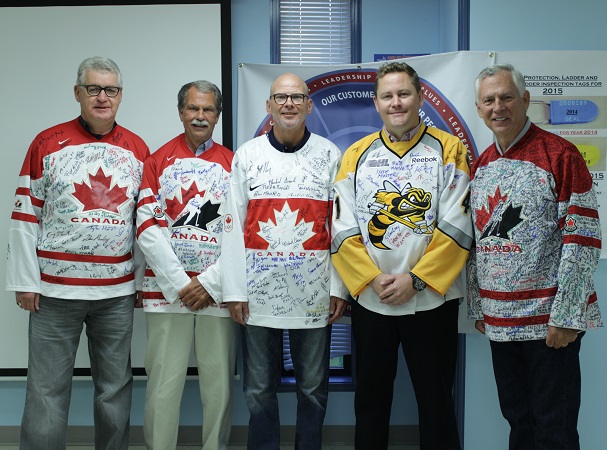 Safety isn't just one of CEDA's core values; it's ingrained in who we are and what we do.
On Thursday, September 17, CEDA brought in My Safe Work founder, Rob Ellis to speak to CEDA and Imperial Oil employees in Sarnia, Ontario about safety and reaching an injury-free record. During the event, employees also signed the Jersey of Courage committing to living and working safely.
Safety is close to Rob's heart. In 1999, Rob lost his 18-year-old son in a workplace accident. It was his son David's second day on the job. Since then, Rob has vowed to educate employers, youth and workers on the right to refuse work and ensuring safety comes first.
My Safe Work Foundation and its determination for making health and safety a priority are closely tied to CEDA. Rob's brother, Doug Ellis, has been an employee with CEDA in Sarnia for six years.
"The loss my brother feels is insurmountable. I live my brother's pain every day. If I could give one piece of advice from the tragic loss my family has experienced, it would be to have the courage to stop and think. No matter your age or experience in the industry, everyone has the opportunity to make a mistake. It is what you do when you are faced with a challenge that makes the difference," said Doug.
Through his career, Doug has been faced with a number of high-risk environments. "No matter the job, the most important thing is to do the job right and safely. It is your responsibility to govern your own safety and look out for your team," said Doug.
---
CEDA is proud to host events with our clients to promoting safe work. This is the second event CEDA has held in partnership with Rob Ellis. The first event was held on May 26, 2015 with employees and students at Greenall High School in Balgonie, Saskatchewan.